Event Info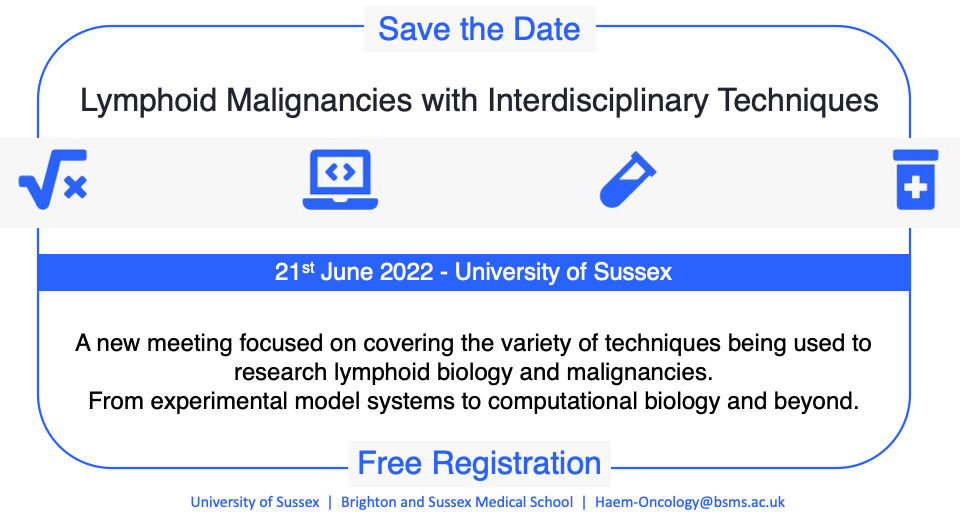 Printable "Save the Date" can be downloaded here.
Lymphoid Malignancies with Interdisciplinary Techniques (LyMIT) is a new meeting focused on highlighting exciting novel research that uses interdisciplinary techniques to understand blood cancer. The biological focus is on lymphocyte biology and malignancy, however the techniques are broad spanning computational biology, animal models, molecular techniques and everything in between. The meeting is organised by the Mitchell Group At Brighton and Sussex Medical School, the University of Sussex. We have lined up a diverse and exciting lineup of talks and there will be a poster session with prizes for the best poster presentations.
We look forward to seeing you all in June!
Registration
Registration will be free, and opening here soon.
Speaker Lineup.
The lineup is to be confirmed but includes representatives of many groups leading interdisciplinary approaches to studying lymphoma.
Agenda
10am-4:30pm.
Getting here
Location
Bramber House. University of Sussex, Brighton, BN1 9QU.
View Larger Map
By Train
Train info
By Car
Parking will be available for free on site.
By Bus
Bus route info
If you have any questions please contact Gemma Hamilton ( HAEM-Oncology@bsms.ac.uk).